INTRODUCTION || CAUSES || SYMPTOMS || TREATMENT || PREVENTION || TAKE AWAY
INTRODUCTION:-
Nasal vestibulitis is just a pimple or boil in the nasal cavity and is also known as —
-> NASAL FOLLICULITIS,
-> FURUNCULOSIS OF THE NOSE,
-> BOIL INSIDE NOSE, or
-> PIMPLE INSIDE NOSE.
Coming straight from the name nasal vestibulitis, it tends to occur in the vestibule region, which is the nose region.
But where exactly in the nose??
It is in the vestibule of the nose.
What is a vestibule of the nose?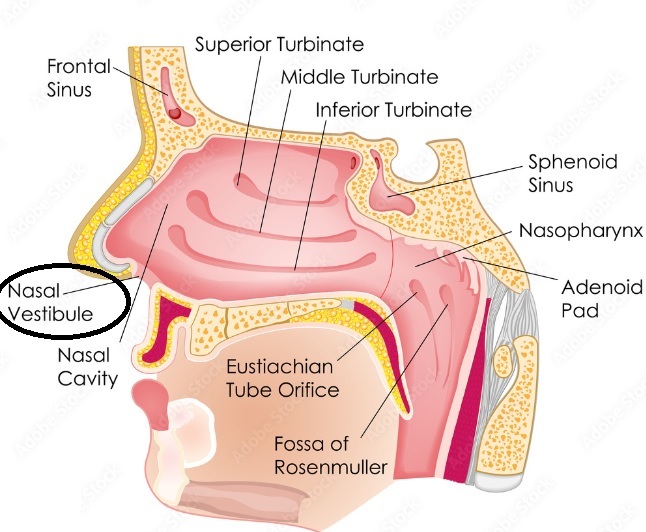 A vestibule is simply referred to as the layer of skin inside the nose to which tiny hairs called nostril hairs or vibrissae are attached.
Thus, nasal vestibulitis means, it is an infection in the hair-bearing area of the nose.
Because of the fact that our nose is designed to be an open cavity with two nostrils protruding on the outside right from the center of our face, we got to bear a bane. That is, this feature of our nose ultimately makes it a reservoir and a breeding home to many microorganisms, be it bacteria, viruses, or fungi.
Out of these, it is the Staphylococcus bacteria that specifically causes nasal vestibulitis.
In everybody these microorganisms are commonly present in their nostrils., but that doesn't mean that everyone has nasal vestibulitis.
Then, in that case, what makes it occur only in a certain set of people, and how does it occur??
CAUSES OF NASAL VESTIBULITIS:-
All the microorganisms are held in our nostrils with the help of tiny hair follicles and mucus in our noses. And it stays superficially on the surface of the inner skin and gets flushed out of our system on blowing.
But in some people, these bacteria enter the skin of the nostril. This happens due to various reasons that come under the causes of nasal vestibulitis, which are:
1) An injury:
An injury that can chip off the first layer of your skin makes it more prone to bacterial entry. Thus, the bacteria automatically cling onto such regions and enter the deeper layers of our skin, causing a red bump which is how nasal vestibulitis is initially characterized.
Also, an injury to your nose can occur due to various reasons like,
Nose piercing
Nose picking
Plucking out the nose hair
Blowing and wiping your nose continuously can get harsh on the sensitive skin of your nostrils.
2) Viral infection:
Some viral infections caused due to viruses, like herpes virus, etc., occur mostly around the mouth and nose. These infections generally form rashes on the skin. Hence, when such rashes or boils are formed in the nostrils, it might simultaneously allow the entry of staphylococcus bacteria as well, which causes nasal vestibulitis.
3) Allergies:
The impact of an allergy is way beyond its stance. If not all, most of us are allergic to one or the other substance. It could be food, flowers, or sometimes just a fragrance. Such allergies tend to attract various bacterial microorganisms that cause evidently visible symptoms like rashes, boils, profound sneezing, and so on.
When any of such symptoms appear, it ultimately takes a toll on our health and the skin. If this skin is that of your nostril, then nasal vestibulitis may occur due to the underlying bacteria.
4) Respiratory tract infection:
Because all diagrams in our biology books showed us that the nose is continued to the respiratory tract and then to the lungs to form a complete respiratory system; eventually, any kind of infection in our respiratory tract can revert back to our nostrils and cause an infection there as well. Infection means irritation, irritation means injury, and injury means the entry of bacteria causing nasal vestibulitis.
5) Cancer treatment:
Yes, a treatment for one can lead to another.
Cancer treatment today is one of the most tedious forms of treatment. And we ought to stand our roots tight to get through all the procedures like chemotherapy, radiotherapy, surgeries, and so on.
Amongst these, chemotherapy is common to all, whereas the other two therapies are to be contemplated by your doctor as per your condition.
In chemotherapy, one of the most familiar drugs is epidermal growth factor receptor inhibitor complex drugs. On using such a drug, it comes along with various side effects, and one such side effect is nasal vestibulitis.
WHAT KIND OF A CHANGE IN YOUR NOSTRIL CALLS FOR NASAL VESTIBULITIS?
SYMPTOMS of NASAL VESTIBULITIS:
Initially, you can see—
A tiny red bump or boil or furuncle in the hair-bearing area of the nasal cavity
It further gathers pus and turns into a pimple
Small boils near hairs inside our nostril
Excruciating pain in the nose
Redness and swelling of the nose.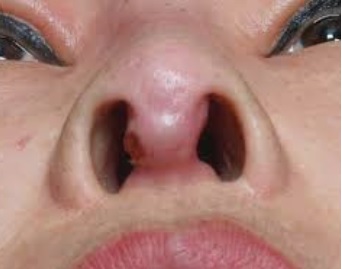 Later you can see—
Crusting and drying away of this pus.
Excess accumulation of pus
Hard mass is formed
Pain in the nose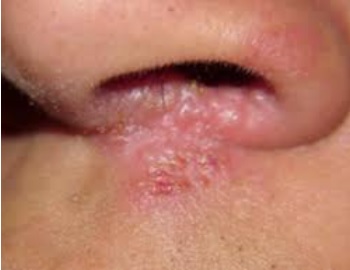 TREATMENT of NASAL VESTIBULITIS:
The initially appearing redness, bumps inside the nose, and tiny pimples can be treated with a few topical creams like BACITRACIN which specifically acts on bacterial infection. It is supposed to be applied to the infected site without fail.
This cream is preferred by your doctor since it targets staphylococcus bacterial infection which is the main cause of nasal vestibulitis.
Apart from that, they could, at times, recommend a basic antibiotic in the form of tablets with a definite course period of 5-7 days.
In the later stages, when our nasal vestibulitis tends to turn severe, the doctor might most preferably go for a course of treatment procedures right from topical medicines to ORAL ANTIBIOTICS to surgeries and so on.
At this stage, mostly, creams and antibiotic tablets are given simultaneously. The cream that can be used in case of advanced nasal vestibulitis is MUPIROCIN.
In a few conditions, if your infection gives birth to huge boils that are big enough to block your nostril passage, then it makes your breathing impossible. In this case, you have no choice but to go for surgery where the pus inside the boil is drained out and cleaned.
Alongside, we can also use hot compress bags near our nose to get instant relief from the pain and irritation.
PREVENTION:
DO NOT SQUEEZE SWELLING OR BOIL IN THE NOSE AT ALL.
Avoiding nose picking
Avoid waxing your nostril hair
Don't rub your nose very often
Take vapor steam regularly
Healthy eating habits
TAKE AWAY:
Nasal vestibulitis is generally not a severe condition initially. In fact, it just looks like any common boil or pimple inside our nostrils. However, one should NEVER SQUEEZE this boil/pimple in the nose at all.
Having said that, it also gets out of control in no time if we turn our heads off it. So, it is always safe to see your doctor when you happen to encounter any such symptoms related to nasal vestibulitis.
THANK YOU
MEDICAL ADVICE DISCLAIMER:

This blog including information, content, references, and opinions is for informational purposes only.
The Author does not provide any medical advice on this platform.
Viewing, accessing, or reading this blog does not establish any doctor-patient relationship.
The information provided in this blog does not replace the services and opinions of a qualified medical professional who examines you and then prescribes medicines.
And if you have any questions of medical nature, please refer to your doctor or qualified medical personnel for evaluation and management at a clinic/hospital near you.
The content provided in this blog represents the Author's own interpretation of research articles.