INTRODUCTION
A sore throat is a feeling of irritation in the throat.
or An itchy/scratchy throat can be called a SORE THROAT.
Symptoms of SORE THROAT
Apart from irritation, it eventually develops –
Causes of SORE THROAT
Anybody can face sore throat because of –
DROPLET INFECTION (means Breathing contaminated air)
Bacterial and other microbial infections
HOW TO TREAT SORE THROAT AT HOME
Home remedies are the first step of treatment that most people all over India follow for generations now. This blog mentions a lot of things that are readily available at everybody's home and can help in treating sore throat at home.
Some of them which can help in treating sore throat are:-
1. HONEY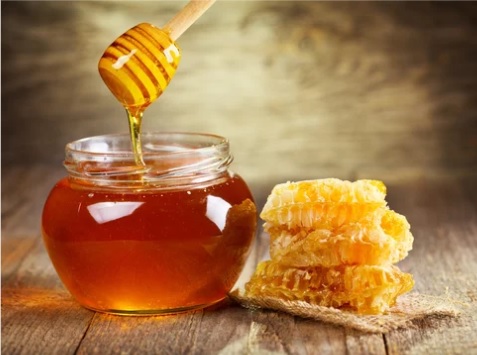 USES –
It immediately suppresses the irritation in the throat and is very effective in curing sore throat because of its immune properties.
It is also an anti-oxidant that helps in weight loss, improves digestion, and so on.
It also lubricates the lining of the throat and gives a soothing sensation.
Ways of consumption –
2 tablespoons of honey mixed in warm water
Honey with ginger or lemon tea
Honey with cereals or grains
Precaution –
It is NOT safe to use this remedy on children (less than 1 year) as they are very sensitive to a bacteria called Clostridium botulinum that could be present in honey.
This bacteria can cause a dangerous disease called BOTULISM in children.
Use pasteurized honey that is free of contaminants.
2. SALTWATER GARGLE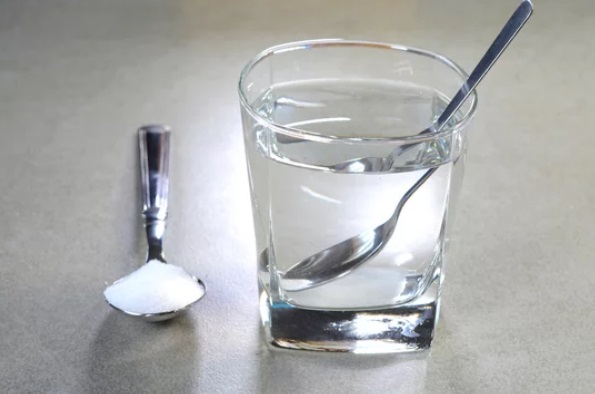 Uses –
Salt helps in killing microorganisms that is causing infection in the throat.
It breaks down, liquifies, and dissolves the excess thick/sticky mucus blockage in the throat.
Reduces swelling in the throat
Ways of consumption –
Salt ( 1/2 teaspoon) mixed in warm water (1 cup) and gargled.
Gargle such that the solution touches the infected area and then spit out the solution.
Precautions:-
Do not drink the solution.
It is safe for people of all age groups, provided that they know to gargle.
Use warm water to reduce contaminants.
3. BAKING SODA GARGLE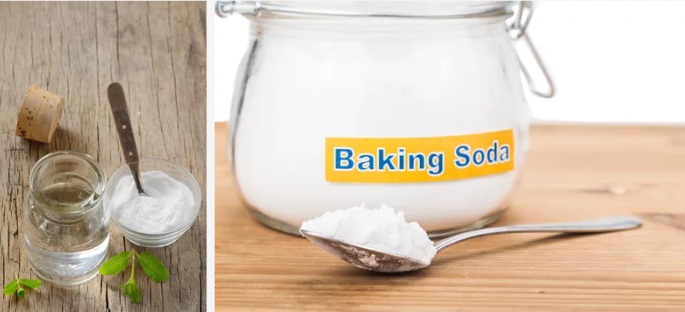 Use –
Helps in killing the microorganism infecting the throat
Reduces mucus secretion.
Fights pain and swelling.
Ways of consumption:-
Baking soda (1/4 teaspoon) mixed in warm water (1 cup)
Salt (1/8 teaspoon) also can be added to it
Precaution:-
Do not swallow the solution
Use warm water
4. GARLIC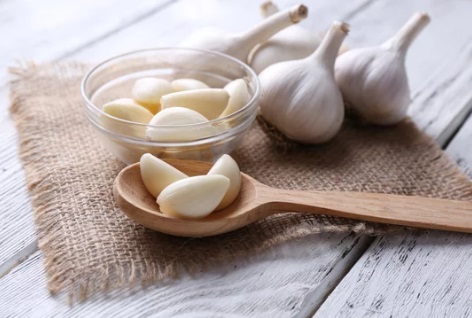 Use –
It contains ALLICIN which helps in curing the infection in the throat.
It also decreases mucus blockage and clears the upper respiratory tract
Easy breathing
Decreases pain while swallowing food
Ways of consumption –
Tablets
Consuming raw garlic or adding it to the food
Garlic powder
5. HOT SAUCE or CAYENNE PEPPER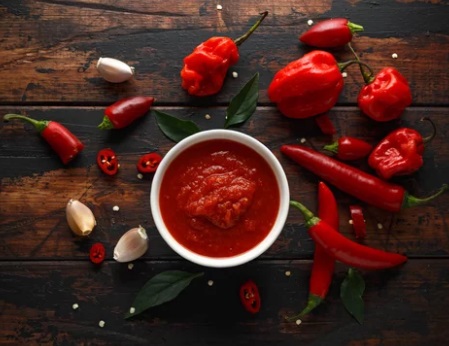 Use –
They contain capsaicin which kills the growing microorganism by increasing the temperature in the infected region for a while.
This gives relief from the pain and irritation as well.
Ways of consumption –
Mix a few drops (very less) of the sauce in warm water and consume.
Precaution –
Do not consume if you have wounds or cuts in the mouth.
6. HOT BROTH or SOUP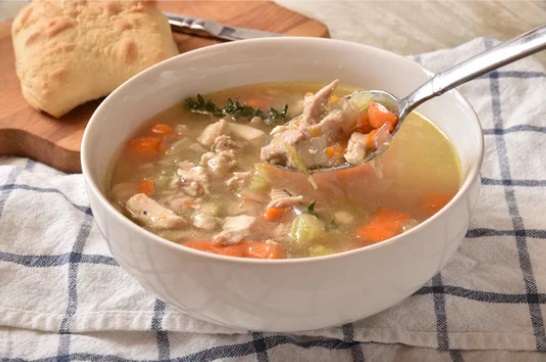 Use –
Chicken broth or soup is rich in proteins that build immunity
Reduces swelling in the throat
Good for soothing of throat
Low-calorie meat can be used for broth
Ways of consumption:-
Boil chicken in water and consume that water
Chicken soup recipes
7. HOT TODDY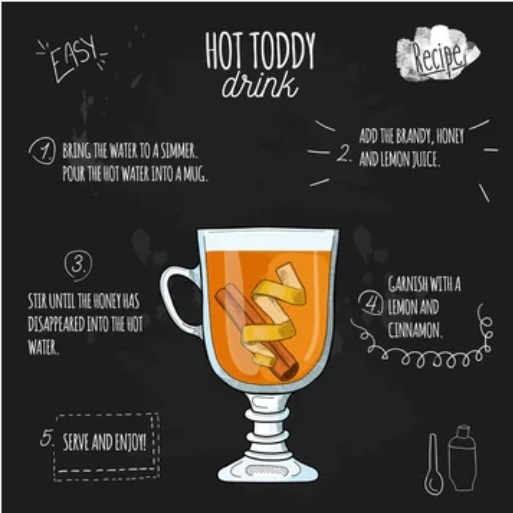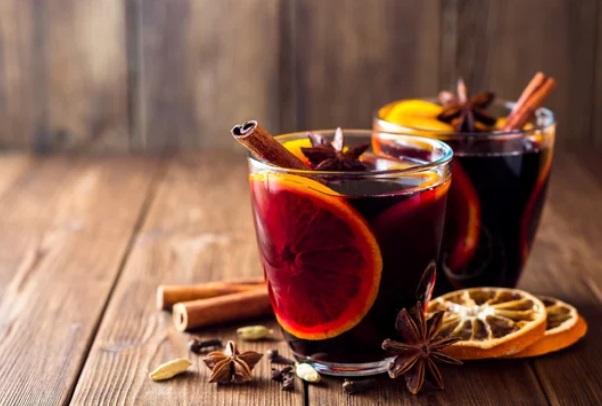 Use –
Ways of consumption:-
Toddy is a recipe where honey, lemon, and whisky are mixed in boiling hot water and consumed
HERBAL SOURCES that can help in treating SORE THROAT at home
1. CHAMOMILE TEA
Herb is obtained from daisy flowers and dried.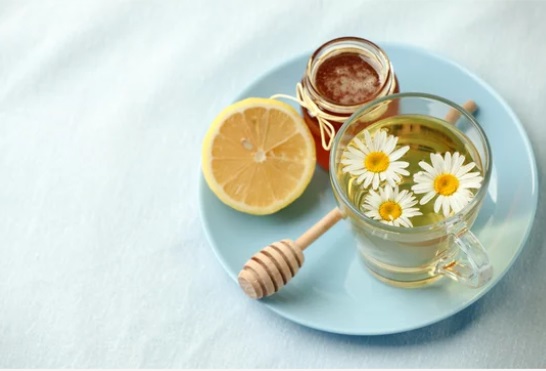 Use –
It reduces swelling and oxidation of cells in the infected area.
This maintains the oxygen supply to the cells and keeps them healthy in curing sore throat
It gives relief from irritation in the throat
Ways of consumption:-
Add dried chamomile tea powder to boiling water, strain, and drink.
2. PEPPERMINT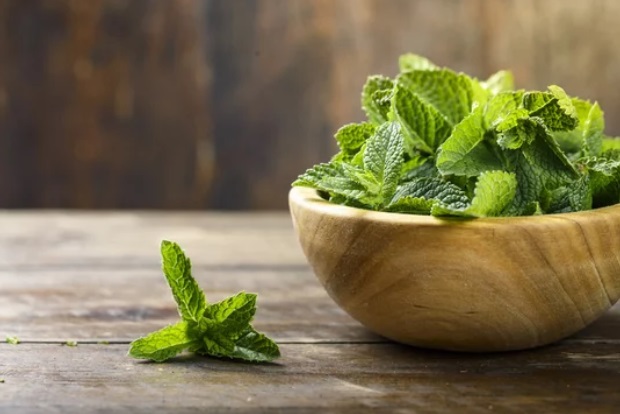 Use –
The acidic property of mint kills the microorganism, causing a sore throat.
Its strong aroma combats bad breath.
They contain menthol, which dissolves mucus and calms the itchy sensation.
Ways of consumption:-
Boil peppermint leaves in water, strain, and drink.
Mint tablets are available in the market.
Oils and solutions can be directly gargled to have a soothing effect on the throat.
Nasal droplets can also be used as it drips down from the nose to the throat.
Precautions:-
Peppermint oil is a concentrated oil; thus, use it only after understanding the proper way of using it.
Keep it away from the eyes.
3. FENUGREEK SEEDS and LEAVES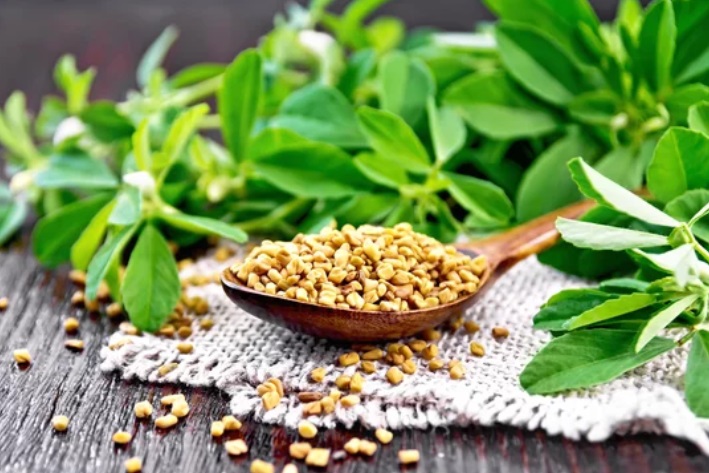 Use:-
Treats sore throat caused due to fungal infection as it is antifungal in nature.
Reduces swelling and irritation.
Ways to consume:-
Fenugreek leaf tea
Fenugreek seeds can be eaten raw
4. MARSHMALLOW ROOT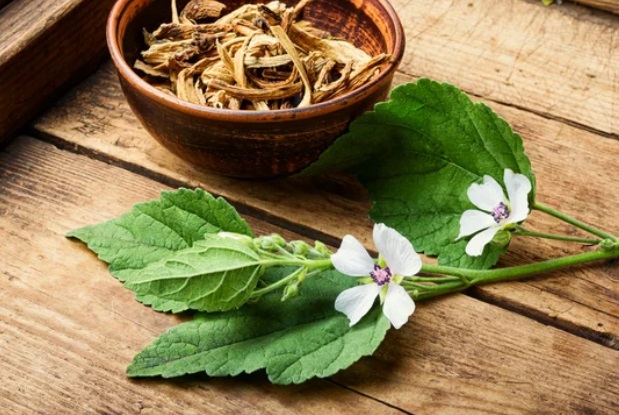 Use:-
It is a root that contains mucilage.
Mucilage prevents mucus secretion and also kills microorganisms in the throat, thereby curing sore throat.
Ways of consumption:-
Marshmallow roots are boiled in water, strained, and consumed.
Available in the market in the form of tincture to heal inflammation.
Tablets consumed orally.
5. LICORICE ROOT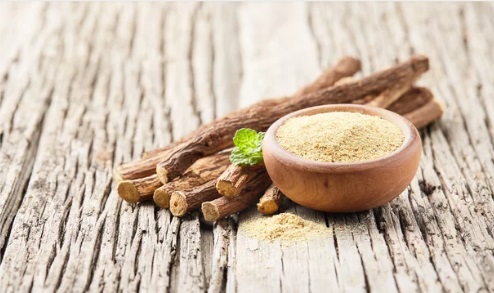 Use:-
Kills bacteria (for example, Streptococcus pyogenes), causing throat infection and sore throat.
Treats cold and cough
Ways of consumption:-
Boiled with water and used for gargling
Licorice tea
Capsules
Licorice solutions
6. SLIPPERY ELM
Use:-
It is a root that contains mucilage.
When it is dissolved in water, the outer peel is removed, and the inner bark, which has a jelly texture, is used. This jelly releases mucilage which lubricates and soothes the throat from irritation.
Also cures fever and heals wounds.
Ways of consumption:-
Tablets (for example, lozenges) are to be consumed 1 hour prior to consuming other drugs.
Tea powder to make slippery elm tea.
OVERALL PRECAUTIONS FOR FOOD AND HERBAL SOURCES –
Make sure to use good-quality sources
Check for the expiry date before use
Do not consume food that is allergic to your body
Take them in the right proportions and the right means.
Do not consume topical creams and oils
Consult a doctor before taking the tablets
ENVIRONMENTAL CONDITIONS –
Staying in hot and humid conditions decreases the risk of sore throat.
Covering yourself with a cloth and inhaling steam coming out of plain boiling water will help. Do this for 10-15 minutes, 3 times a day
HABITS to AVOID CATCHING SORE THROAT
Rest and sleep (minimum 7 hours) every day is very important for the body to self-heal.
This will help in reducing the inflammation, pain, and roughness of the voice.
HOME REMEDIES TO TREAT SORE THROAT IN INFANTS:-
Use a heater in the room
Give them ample amounts of water and fruit juices to keep their body hydrated. This also flushes the infection-causing microorganisms.
Lozenges are recommended for children only above 5 years old.
Honey is to be avoided till the child becomes 1 year old in order to prevent the threat of botulism.
THANK YOU
MEDICAL ADVICE DISCLAIMER:

This blog, including information, content, references, and opinions, is for informational purposes only.
The Author does not provide any medical advice on this platform.
Viewing, accessing, or reading this blog does not establish any doctor-patient relationship.
The information provided in this blog does not replace the services and opinions of a qualified medical professional who examines you and then prescribes medicines.
And if you have any questions of medical nature, please refer to your doctor or qualified medical personnel for evaluation and management at a clinic/hospital near you.
The content provided in this blog represents the Author's own interpretation of research articles.