As the world battles the rise in COVID-19 cases owing to the Omicron variant, scientists in France have found another variant B.1.640.2, and given the name IHU (on the name of The Méditerranée Infection University Hospital Institute [IHU] in Marseille, France, where it is confirmed)
Variants till now designated by WHO as variants of concern-
WHO label 
Lineage
Earliest documented  samples 
Date of designation
Alpha 
B.1.1.7 
United Kingdom, Sep-2020 
18-Dec-2020
Beta
B.1.351 
South Africa, May-2020 
18-Dec-2020
Gamma 
P.1 
Brazil, Nov-2020 
11-Jan-2021
Delta 
B.1.617.2
India, Oct-2020
Designated Variant of Interest (VOI): 4-Apr-2021 
Designated Variant of Concern (VOC): 11-May-2021
Omicron
B.1.1.529
South Africa and now Multiple countries, Nov-2021
Designated Variant under Monitoring (VUM): 24-Nov-2021
Designated Variant of Concern (VOC): 26-Nov-2021
IHU
B.1.640.2.
France, Mid-November 2021
Yet to be designated by WHO
OMICRON VARIANT
1. TRANSMISSIBILITY OF OMICRON: 
People who have contracted the Delta variant virus earlier in the 2nd wave MUST NOT think that they are safe from the Omicron infection.
Even if you have some immunity developed from the Delta variant infection, Omicron reinfection is still a high possibility, as per WHO.
There is very limited knowledge about the Omicron variant till now and no one can predict how things will turn out if it starts erupting exponentially in India where there is already widespread exposure to the Delta variant.
The virus unlike other variants has been shown to be INFECTING CHILDREN relatively more than the previous variant.
Hence, for the time being, it is advised to follow the 14-17 days isolation and quarantine rules as followed during the 2nd wave to prevent the virus from spreading from infected persons to healthy individuals.
The Centers for Diseases Control and Prevention recommends isolating for at least 10 days after symptoms onset.
2. SEVERITY OF DISEASE: 
After the deadly Delta variant of Coronavirus, the Omicron infected cases are rising up like a big Tsunami wave.
With the start of the new year, the omicron variant has shown a lot more transmissibility than other variants.
The Omicron variant has risen to 1892 cases with Maharashtra reporting the most number of infections.
However, there are no deaths due to Omicron infection reported in India till now, giving a slight sigh of relief and proving to be a variant of HIGH TRANSMISSIBILITY but LESSER SEVERITY.
The only omicron-related death reported in India is of a 52-year-old man who died of a heart attack in Pimpri, Chinchwad, India.
His death by officials has been attributed more to his underlying co-morbidities rather than the virus.
3. SYMPTOMS OF OMICRON:
Following is the list of all the symptoms reported in Omicron-infected people so far.
The list includes mostly all the symptoms that have been experienced first-hand by Omicron-sufferers and shared on social media –
1. Runny nose
2. Headache
3. Earache
4. Mild fever
5. Cough
(Omicron infection can lead to dry cough or wet cough or barking type cough)
6. Excessive Fatigue
7. Scratchy throat
8. Body pain
9. Nausea
10. Vomiting
11. Loss of appetite
12. Night sweats
13. Sleep Paralysis
14. Diarrhea
15. An impaired sense of smell and taste

At the start of the Omicron pandemic, it was said that Loss of sense of smell/taste is NOT SEEN IN OMICRON.
However, as the Omicron pandemic progressed, PATIENTS STARTED PRESENTING WITH LOSS OF SMELL/TASTE IN OMICRON ALSO. But the important thing is that the number of patients with loss of smell/taste is still very few as compared to the delta variant.
Office for National Statistics (ONS) which is the United Kingdom's largest independent producer of official statistics and the recognized national statistical institute of the UK stated on 19 January 2022 that………
"People with Omicron compatible infections are less likely to report most symptoms, and substantially less likely to report LOSS OF TASTE or LOSS OF SMELL, compared with people with Delta compatible infections."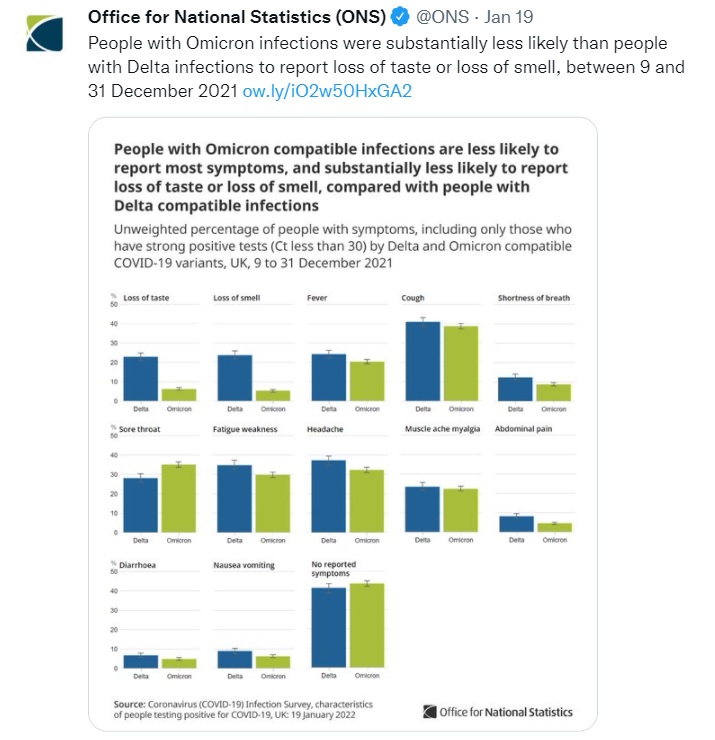 The Omicron variant has an equal chance of infecting both an unvaccinated population and a vaccinated one.
However, vaccinated people are more likely to report MILDER symptoms.
4. HOW LONG WILL THE IMMUNITY LAST IF ONE GETS INFECTED WITH THE OMICRON VIRUS?
Taking both 1st wave, 2nd wave, and vaccination drive into consideration, we all know that a large chunk of the population has been infected or has been vaccinated, or both, but it is largely UNKNOWN TILL NOW how long does the immunity from the vaccination or the natural infection from the virus last.
However, few researchers believe that post omicron, a patient might develop antibodies and immunity against the virus that can last for 6-8 weeks, but a concrete piece of evidence from researchers is still awaited.
5. WHEN TO SEEK HELP or MEDICAL ATTENTION?
– Difficulty in breathing
– Persistent pain or pressure in the chest
– State of Confusion
– Inability to awake or stay awake
– Pale, gray, or blue-colored skin, lips, or nail beds, depending on skin tone, which is suggestive of very low oxygen concentration in the body.
6. STEPS TO AVOID OMICRON INFECTION:
It is important that whether infected or not in the 2nd wave, one MUST follow the following to avoid getting Omicron infection-
A) COVID-appropriate behavior,
B) Wear N-95 masks,
C) Follow hand hygiene,
D) Continue practicing social distancing,
E) Avoid social gatherings and crowded places.
F) Get Vaccinated.
7. WHAT TO DO IF YOU EXPERIENCE ANY OF THE OMICRON SYMPTOMS? (Symptoms mentioned in point 4)
Get yourself tested and DO NOT SOCIALIZE.
The current SARS-CoV-2 RT PCR kit continues to detect this variant, hence get tested if symptoms are suggestive of even common cold.
DO NOT MISJUDGE THE SYMPTOMS and think of it as just a common cold.
IT IS NOT A COMMON COLD.
Swiss physician Dr. Peter Juni, the Scientific Director of Ontario's COVID-19 Science Advisory Table, has warned NOT TO RELY on rapid antigen tests (RAT) due to their lack of effectiveness in the detection of the Omicron variant.
Based on the latest data, he told that rapid antigen tests only detect Omicron 50% of the time, hence if a person has symptoms go for an RT PCR test.
8. TREATMENT OF OMICRON:
Clinicians have not supported any use of Antivirals like Favipiravir till now.
The basic treatment of Omicron infected patients is almost the same as followed when suffering from the common cold-
1. TAKE PLENTY OF REST AND ENOUGH SLEEP
2. TAKE PLENTY OF FLUIDS (till the urine is light yellow or clear)
3. SIPPING ON HOT BEVERAGES LIKE SOUP AND TEA (in moderation) CAN HELP.
4. MONITOR TEMPERATURE.
5. THERE IS NO NEED AS SUCH TO MONITOR OXYGEN SATURATION WITH A PULSE OXIMETER.
(However, Pale, gray, or blue-colored skin, lips, or nail beds, depending on skin tone, which is suggestive of very low oxygen concentration in the body)
6. SIMPLE LOZENGES like Cofsils®, Strepsils®CAN HELP WITH MILD SCRATCHY THROAT.
7. STEAM INHALATION in moderation.
8. ANTI COUGH SYRUPS for Persistent cough (to be advised by expert Clinician only like a Pulmonologists, MD Medicine, ENT specialists)
9. ANTIPYRETICS to bring down fever, body aches, headaches like Paracetamol.
10. SALINE NASAL SPRAY TO AVOID nasal congestion.
11. ANTIALLERGIC (Oral or topical) if the patient is experiencing excessive nasal discharge/runny nose.
IHU- THE LASTEST CORONAVIRUS VARIANT
The variant has been given the name B.1.640.2.
Its presence is first detected by experts at the IHU Mediterranee Infection in Marseille, France.
The first or index case of IHU had returned from traveling to Cameroon (a country in Central Africa), suggesting to experts that it may have originated in the African country.
WHO (World Health Organization) is YET TO DECLARE it as a variant of Interest or concern or under evaluation.
The B.1.640.2. or IHU is reported to be at least found in 12 patients.
IHU like other variants has its own set of 46 mutations — even more than the Omicron — which can make it more infectious and more resistant to vaccines.
Tests show that IHU carries the N501Y mutation which was first seen on the Alpha variant. According to experts, this finding can make it more transmissible.
According to the scientists, it also carries the E484K mutation, which could mean that the IHU variant will be more resistant to vaccines.
WHY IHU SHOULD NOT BE FEARED?
A nasopharyngeal swab for RT PCR which later came out positive was taken from the first case of the B.1.640.2 lineage or 'IHU Variant', or the index case, in Mid-November 2021, that is even before the identification and emergence of the Omicron variant.
It's almost 7-8 weeks now and the B.1.640.2 lineage has only managed to infect less than 20 cases so far, so it is unlikely that the IHU variant will cause an explosion of cases.
Whereas, in a very short time, the Omicron variant has infected and spread over a large population across the world.
The B.1.640.2 lineage had sufficient time but it had failed to raise any concern, and hence it seems extremely unlikely that it can outcompete the Omicron variant, which thankfully causes mild symptoms of COVID-19 illness.
THANK YOU
WATCH INTERESTING ENT-related VIDEOS ON MY YouTube CHANNEL…..Dr.Sharad ENT Videos
MEDICAL ADVICE DISCLAIMER:
This blog including information, content, references, and opinions is for informational purposes only. The Author does not provide any medical advice on this platform.
Viewing, accessing, or reading this blog does not establish any doctor-patient relationship.
The information provided in this blog does not replace the services and opinions of a qualified medical professional who examines you and then prescribes medicines.
And if you have any questions of medical nature, please refer to your doctor or the qualified medical personnel for evaluation and management at a clinic/hospital near you.
The content provided in this blog represents the Author's own interpretation of research articles.