With the advent of the year 2022, the world is witnessing another surge of COVID-19 cases. This time the surge of cases was not because of the Delta variant of coronavirus but was due to a new variant, the OMICRON.
The B.1.1.529 / Omicron variant was first reported to WHO from South Africa on 24 November 2021, and it is now clearly visible that the new OMICRON variant is spreading faster than its predecessor Delta variant.
With no fixed pattern of spread, Omicron infected adolescents, young, as well as adults. But with time, it was seen that the virus is spreading to the pediatric population also, and infecting small children across all age groups.
Countries like US and UK, have witnessed a rapid rise in not just children getting infected with Omicron, but also there is a steep incline in the number of hospitalization of children in recent weeks.
Omicron till now is stated to cause milder disease but it carries a potential of causing sickness and hospitalization to anyone with co-morbidity.
What makes it a variant of concern for children is –
In India as well as in most countries of the world, populations equal to or above the age of 18 years are vaccinated. The most vulnerable poulations which are not vaccinated are children below the age group of 15 years. Just a week back, India has kicked off its vaccination drive for teens aged 15 to 17.
Omicron has developed a reputation of causing increased breakthrough infections and high transmissibility.
In such a scenario, children, who around the world have not received vaccine shots as widely as young adults, middle-aged, and senior citizens, may risk being infected in greater numbers and driving up figures of the hospitalization.
But whether Omicron causes severe illness and in which pediatric age groups is still under debate, and the present figures still do not give a clear picture.
When a child gets ill in the family, many parents are clueless about what to do and how to handle things. Many parents don't know when to take their child to the hospital or the specialist.
And when this illness is an Omicron infection the parents are further confused. While many have dubbed omicron infection as a mild illness, it has the potential to cause upsetting symptoms in children.
So, I come up with this blog "TO GUIDE PARENTS" about things they must know if the child is Omicron infected-
##

1st: First of all, ASSESS THE SYMPTOMS OF THE CHILD
– Routine flu, a viral fever, or Omicron all will exhibit similar symptoms in a child.
The child may have a :
Cough (can be dry/wet/barking type)
Cold,
Runny nose,
Sore throat,
Nasal blockage,
Fever,
Increased heart rate
(It is usually in response to high fever. Whenever there is a high fever, the child will have a high pulse rate…..so DON NOT PANIC)
Fatigue,
Loss of interest in routine playful activities which the child normally enjoys,
Drowsiness,
Loss of appetite, etc.

Few children may develop —
Headaches,
Body aches,
Earache or Ear fullness,
Nausea,
Vomiting,
Stomach discomfort/stomach ache,
Loose stools.

Though I have not come across this anywhere in the literature or any research article till now, this is my observation of my patients that if someone has caught the coronavirus in this ongoing 3rd wave for the first time, be it Omicron, the GI (gastro-intestinal) symptoms like Vomiting, loose stools, stomach discomfort are as equally present as respiratory symptoms like runny nose, cough, sore throat, etc.
There is NO classic Omicron symptom in a child, but in this wave, the virus is causing loss of smell or taste, but in a lesser number as compared to the Delta variant.
It's a spectrum of symptoms that a parent should be aware of.
Moreover, in the present scenario of the pandemic, if the symptoms are spreading slowly to the whole house including other children and adults of the family (be it with very mild symptoms also), should raise a concern of Omicron infestation in the family.
Another important symptom and sign that a parent should worry about is —
DEVELOPMENT OF CROUP aka ACUTE LARYNGOTRACHEOBRONCHITIS (LTB) in an Omicron-infected child.
Acute laryngotracheobronchitis (LTB) is the most common cause of infectious respiratory obstruction in children.
Risk Factors for Croup [Brassy cough/ gurgling wet cough/Barking cough]-
– It is a viral infection and affects usually children between 3 months and 5 years of age.
– It can be further complicated by secondary (or superadded) bacterial infection.
– One of the family members usually will have a history of cold symptoms (usually mild-moderate).
Pathology of Croup [Brassy cough/ gurgling wet cough/Barking cough]–
– The swelling of loose tissue just below the vocal cords (Subglottic region) causes airway obstruction and stridor.
(STRIDOR means a harsh vibrating noise when breathing)
– Thick tenacious secretions and crusts may also obstruct the airway.
Clinical Features of CROUP [Brassy cough/ gurgling wet cough/Barking cough]–
1. The disease begins with symptoms of an upper respiratory infection such as low-grade fever, cold, and cough.
2. After several days of cold symptoms child develops hoarseness and a classic BRASSY and BARKING CROUPY COUGH.
(Parents may confuse this Barking cough with a wet cough because it usually also has that gurgling sound texture like that of a wet cough)
3. Intermittent inspiratory stridor becomes continuous stridor.
(STRIDOR means a harsh vibrating noise when breathing)
4. Signs of upper airway obstruction, such as nasal flaring, and suprasternal, infrasternal, and intercostal recession/retractions may start appearing.
(Recession/Retraction means the muscles and skin in between the ribs gets pulled inwards when breathing)
5. Stridor and dyspnea may lead to ICU admission.
(Dyspnea means SHORTNESS OF BREATH or AIR HUNGER)
Now, when you have assessed the symptoms, what should a parent do?
If paracetamol is seeming to be unable to bring the fever down, every parent must know the following things —
– First of all, the parent should get a good working THERMOMETER (which should work well and does not give false readings) and then measure the temperature.

– Believe me, when I say that thermometer should be in a good working condition as sometimes false readings may create panic amongst the parents.

– Temperature can be measured in the oral cavity below the tongue or in the armpit of the child.
– An armpit (axillary) temperature is usually 0.5°F to 1°F LOWER than the oral temperature.

– The parents should not panic even if they see a high temperature on the thermometer.

– Fever may be associated with chills, shivering, or rash

– If the initial fever was as high as say 103-104°F, giving paracetamol to the child may bring it down to 100 to 102°F maybe, but might not make the child afebrile…..so a parent should NOT PANIC.
This decrease in temperature is also considered a SUCCESS, and a parent should believe that the medicine is working.
– A parent should know that the sole purpose of all the anti-fever medicines is not to bring down the temperature to a normal level and make the child absolutely afebrile in a few minutes or hours, but to provide relief in the troubling symptoms of the child by reducing his/her pain and discomfort.
– AVOID OVERDOSING or FREQUENT DOSING OF PARACETAMOL.
(The dose calculated according to per kg body weight should only be repeated after a gap of 4-6 hours if at all fever is present.)
– Paracetamol is known to show effect within 15-30 mins, and the maximum effect comes after nearly 1.5-2 hours.
– Even after 1-2 hours of administration of Paracetamol/Ibuprofen, Do not panic if the temperature has NOT substantially gone down.
Meanwhile, do normal tap water sponging (in winters), and cold water sponging (in summers) for a period of 2 hours more.
Water should NEVER be ICE COLD because this can accentuate shivering in children and do more harm than good.
This exercise will help in passing the time till the next dose of Paracetamol can be safely given.

– A parent should make sure that the clothes are NOT too tight or the child is not excessively wrapped in layers.
This can also give false readings as the thermometer will detect high body temperature due to entrapment of body heat. THAT DOES NOT MEAN THAT YOU UNDRESS YOUR CHILD AND START SPONGING THEM TO BRING THE TEMPERATURE DOWN.
FEVER IS A HEALTHY AND A NATURAL RESPONSE TO INFECTION.
– A very common mistake that most parents do is "CHECKING THE CHILD'S TEMPERATURE AT FREQUENT INTERVALS"
How frequently should a parent check the temperature of the child?
– Parents are advised to NOT check temperature too often, as it creates unnecessary panic amongst them.
– The optimum frequency of measuring the temperature should be :
Every 1-2 hours if the temperature is equal to or above 103°F,
Every 3-4 hours if the temperature is between 100°F-102°F, and
Every 4-6 hours if the temperature is below 100°F.
5. ANTI COUGH medicines to relieve the child of dry cough
like Dextromethorphan, Chlorpheniramine combination, eg. Piritone CS®, etc

6. NEBULIZATION with BRONCHODIALTORS or STEROIDS
eg. Levosalbutamol (Levolin®),
Budesonide (Budecort®),
Levosalbutamol + Ipratropium (Duolin®), etc.

– It may be necessary if the child develops a Brassy/Barking cough or cough with expectoration where the sound of thick secretions can be heard with coughing.
(SHOULD BE TAKEN only if prescribed by a specialist)
7. Child who has a wet cough (means cough with sputum/thick phlegm) is many-a-times prescribed MUCOLYTIC syrup-like Ambroxol eg. Ambrodil LX®, to clear out the thick mucus in the throat and chest.

-Children DO NOT have that strong of a cough reflex and also have not learned the technique to clear the mucus out through coughing as adults do. Hence this medication breaks down the thick mucus and the child either expels it out in vomiting or in feces.

8. ANTI-VOMITING medicines
like Ondansetron eg. Syrup Ondem® etc.

9. ANTISPASMODIC AND ANTIFLATULENT medicines
like Syrup Meftal spas®, Colimex®
– It can be given to relieve the child from stomach aches and discomfort.

9. PROBIOTICS
like Enterogermina®
– It can be given to replenish the gut flora of the child.
10. ANTIBIOTICS
like Azithromycin, Cefixime, Cefuroxime, Cefpodoxime, Amoxicillin, etc.
– To combat the superadded infections.
## 2nd is that Parents SHOULD NOT rush to get the child tested for SARSCoV2 RT-PCR
– This is because in the early days of symptoms the RT-PCR test may come negative.

– For even a sensitive test like RT PCR the load of the Omicron virus should reach such a threshold value that it gets detected in the RT-PCR kit.

– Hence, the IDEAL TIME to get the RT-PCR test done is at least is 2-4 days after the onset of symptoms.

– However, this is also true that many kids may test positive even within 2 days of onset of symptoms suggestive of a possible high viral load in the body.
## 3rd is MAINTAIN HYDRATION OF THE CHILD
– Dehydration is a very common concern that can develop in a child, especially if the child has gastro-intestinal (GI) type of COVID symptoms like Nausea, vomiting, loose stools. Nonetheless, dehydration can also occur in a child with non-GI symptoms like fever, cough, cold, etc which leads to loss of appetite in a child.
– Also, when a child develops a fever, the body tends to bring down the temperature by sweating which can also lead to dehydration.
– The child should be given anything which he/she enjoys drinking or eating (preferably something warm, not cold/sour).
## 4th is Knowing the "DANGER SIGNS" in a child
– Parents should know the following DANGER SIGNS and urgently report to a hospital if the child presents with any of the following :
Excessive crying

Extreme tiredness

The child is difficult to awake

Persistent headache

Seizures (Febrile seizures)


Sometimes, fever can trigger seizures in kids, most commonly in the age group of 6 months to 5 years. These are known as FEBRILE SEIZURES.
The onset of these seizures DOES NOT MEAN BRAIN DAMAGE.
They can be just a FEW SECONDS in duration and DOES NOT usually last more THAN 1 MINUTE.

Persistent diarrhea or stomach ache

Breathlessness

Barking Cough

Chest retractions while breathing (RESPIRATORY DISTRESS)

Harsh sound while breathing (STRIDOR)

Temperature persisting 104°F or above

If Fever persists for more than 5 days

Complete loss of appetite.
## 5th is KNOWING THE "RECOVERY SIGNS" THAT SHOULD MAKE A PARENT RELAXED:
– While the parent should be aware of the above-mentioned danger signs, they should also know the signs of recovery in a child-
The child is

ACTIVE and PLAYFUL

when the fever is down.
Child

ACCEPTS FEEDS NORMALLY.

The

VOMITING IS REDUCED

and the appetite has come back to NORMAL.
The child is

PASSING URINE NORMALLY

which is light yellow or clear suggestive of good hydration.
The patient is

NOT HAVING HIGH FEVER.


When eventually the fever which was as high as 103/104°F to start with has limited itself to below 100°F (if not coming to normal).
## 6th is SAVING THE OTHER CHILDREN OF THE FAMILY
– While we all know by now that the Omicron virus is highly transmissible, hence every effort should be made to protect the rest of the children in the family especially if the child is within the age group of 6 months to 5 years.
– That means following all the COVID appropriate behavior at home –
As soon as the child develops symptoms, ISOLATE THE CHILD AND QUARANTINE HIM/HER WITH ONE OF THE PARENT.
If the child is big enough to take care of himself/herself, he/she can be tried to quarantine alone in the room.
The child should be taught to Sneeze in a handkerchief/tissue/ or in the elbow, as it reduces the ejection of the droplets into the environment.
If the child is older enough ie. >10 years, he/she should be encouraged to Wear a NIOSH-approved N95 mask.
– The mask should cover both the nose and mouth.
– The child SHOULD BE DISCOURAGED to remove the mask while talking.
– If a child is within 5-10 years of age group, and can not tolerate wearing an N95 mask, a disposable 3ply surgical mask, or a cloth mask should at least be tried.
– A child less than 5 years, can be tried to wear a soft cloth mask.

Wearing a mask by the child is very unpredictable, but that DOES NOT MEAN that a parent does not even try to make the child wear a mask.
FOLLOW HAND HYGIENE
Frequent washing of a child's hands with soap for at least 20 seconds or more has the potential to kill this lethal virus.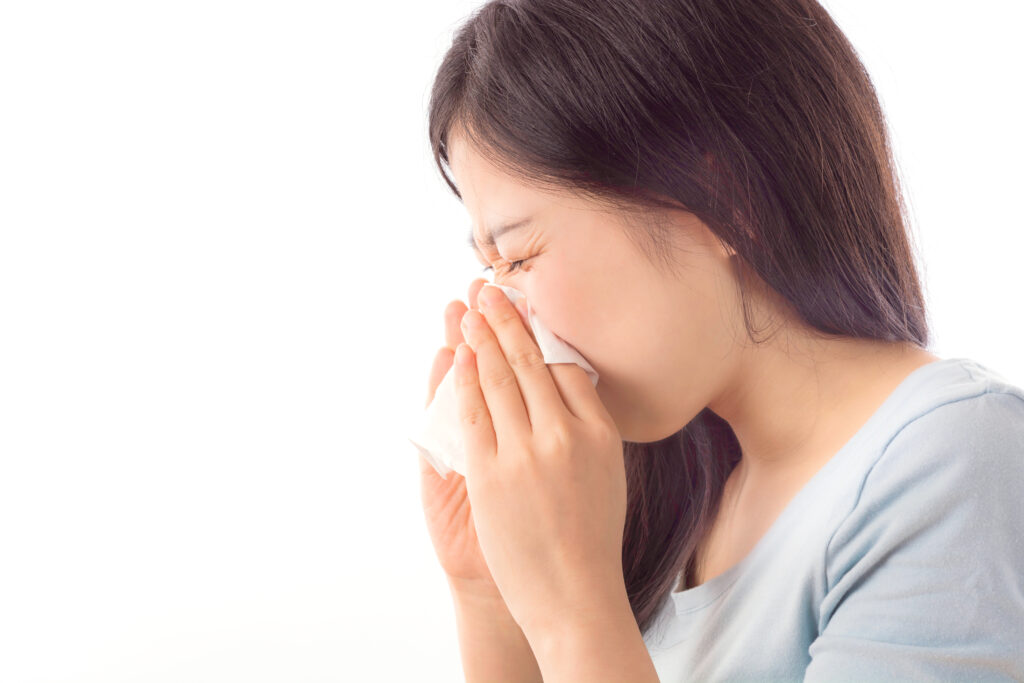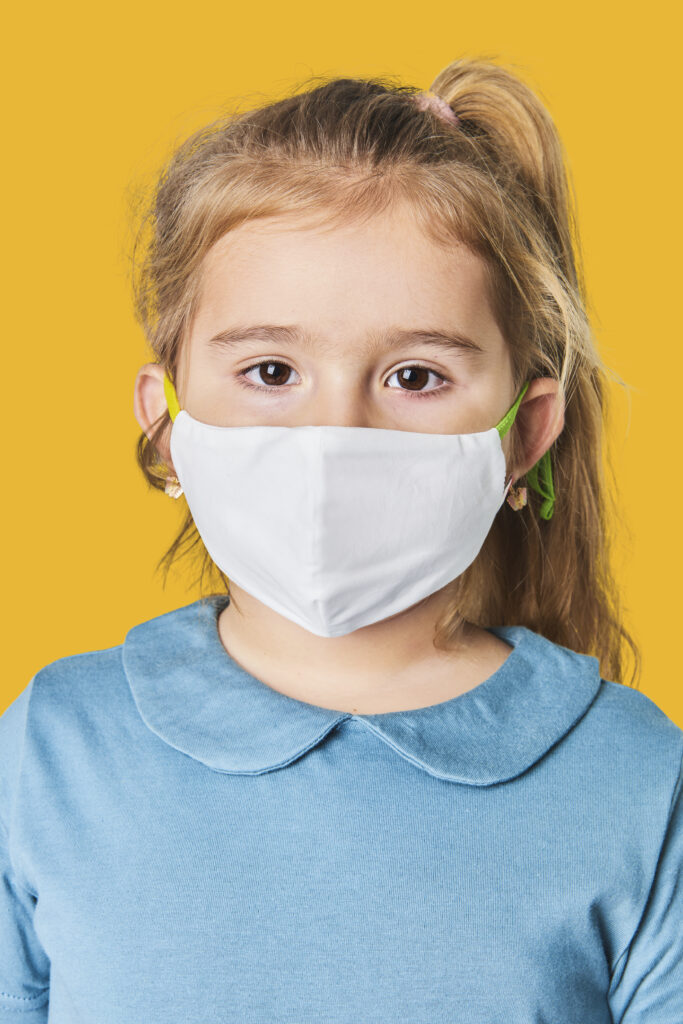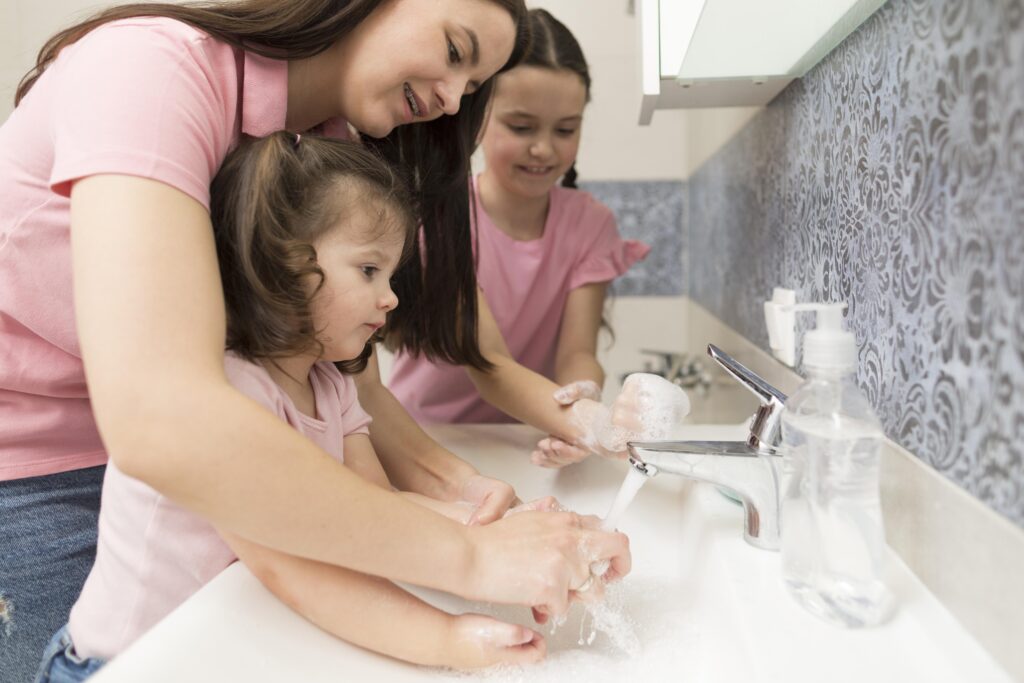 THANK YOU
A VERY IMPORTANT NOTE:
The medicines mentioned in the blog are to give an approximate or a rough idea to the parents that what all medications are there for the symptoms and ONLY A SPECIALIST can give a combination of these medications according to the symptoms of the child.
All medicines mentioned in the blog SHOULD NEVER BE given collectively to any child.
The dose and frequency of the medicines are calculated by a specialist and then prescribed.
NO PARENT IS ENCOURAGED TO SELF MEDICATE THE CHILD AT ALL with the help of his blog.
If at all, the parents are doing so, they are risking the health and life of their child at their own responsibility.
WATCH INTERESTING ENT-related VIDEOS ON MY YouTube CHANNEL…..Dr.Sharad ENT Videos
MEDICAL ADVICE DISCLAIMER:

This blog including information, content, references, and opinions is for informational purposes only.
The Author does not provide any medical advice on this platform.
Viewing, accessing, or reading this blog does not establish any doctor-patient relationship.
The information provided in this blog does not replace the services and opinions of a qualified medical professional who examines you or the child and then prescribes medicines.
And if you have any questions of medical nature, please refer to your doctor or the qualified medical personnel for evaluation and management at a clinic/hospital near you.
The content provided in this blog represents the Author's own interpretation of research articles.