Itching in the ears is a very common complaint of many patients who come to my OPD.
Urge to scratch ears can happen in individuals of all ages.
And usually, the sensation is so strong that the individual puts anything that comes in his/her hand to scratch the ear.
KIDS as small as 2-3 months old are brought by their parents to me with the complaint that the child is –
"FREQUENTLY PULLING THE EAR LOBES"
OR
"FREQUENT TUGGING OF EARS"
OR
"FREQUENTLY PUTTING FINGER IN EAR CANAL."
In a child, this frequent tugging/pulling of ear lobes is most probably due to ear itching.
In turn, ADULTS frequently come with the complaint of –
– Itching in the ear canal, many a time is associated with ear pain or ear discharge.
– This itching in the ear canal may be indicative of an underlying disease.
Ears carry 2 very important functions of the human body –
1. HEARING FUNCTION
2. HELPS IN BALANCING THE BODY.
(YES…….The ear has a very MAJOR ROLE in maintaining the balance of the body……rather if you are walking straight on your 2 legs without falling on the ground is because you have two well-coordinated functioning ears)
Hence, no matter the cause of your itch, it's never a good idea to stick any objects in your ears, as the Length of the ear canal is just 24 mm.
Anything that you put in the ear canal to scratch is invariably longer than 24mm, hence carry
a very high chance that you might injure or rather perforate your eardrum. You could also damage the tiny bones inside the ear that help you hear.
It also DOES NOT MEAN that you can scratch your ear with anything that has a length of less than 24 mm.
In this blog, I will tell you about the most common causes of Itching in the ears, and also what you can do to get relief, and when to consult an ENT surgeon.
Most common causes of ITCHING IN EARS-


1. DRY EAR CANAL SKIN
Ear wax is formed by the sweat and oil glands that are present in the skin of the ear canal. So, this wax LUBRICATES the ear canal and entraps the foreign materials that enter the ear canal.
In some individuals, ears don't produce enough wax, resulting in ear canal skin becoming dry and itchy.
Whereas, some individuals clean their ear wax too much that they do not leave any wax for lubrication of ear canal skin, further resulting in a dry itchy ear.
TREATMENT-
– A drop of coconut oil/baby oil can be put on fingertips and the ear canals can be lubricated once or twice a week after bathing.
Make sure the fingernails are not big and don't cause any injury to the ear canal skin.
2. EAR WAX BLOCKAGE
As told above, too little wax can cause itching, whereas one should know that TOO MUCH OF WAX can cause ear itching as well as decreased hearing.
TREATMENT-
Wax softening ear drops for at least 7 days followed by ear wax removal by ENT surgeon.
NEVER put HYDROGEN PEROXIDE in your ear to clear the wax. It can cause extensive damage to the ear skin as well as ear drum.
3. SEBORRHEA or DANDRUFF of EAR HAIR
Patients with dandruff have an associated condition of Scalp dermatitis (aka Scalp skin infection) and whitish flakes.
These white flakes may both fall from the scalp and enter the ear canal, or they can directly infest the hair inside the ear canal and cause ear canal skin infection (aka Seborrheic Otitis Externa).
Itching is the most common presenting complaint of Seborrheic otitis externa.
Greasy yellow scales may be seen in the canal, over the ear lobule, and behind the ear.
TREATMENT-
1. Treatment of scalp dandruff by a DERMATOLOGIST.
2. Regular ear cleaning to remove the flakes.
3. Salicylic acid in advised dose by a dermatologist.
4. Sulphur cream in advised dose by a dermatologist.
4. EAR INFECTIONS
Bacteria, viruses, as well as fungi, can cause extensive ear itching.
Fungus infection of the ear is known as "OTOMYCOSIS".
The most common presenting complaints of patients with Otomycosis are-
1. EAR ITCHING
2. EAR PAIN
3. EAR FULLNESS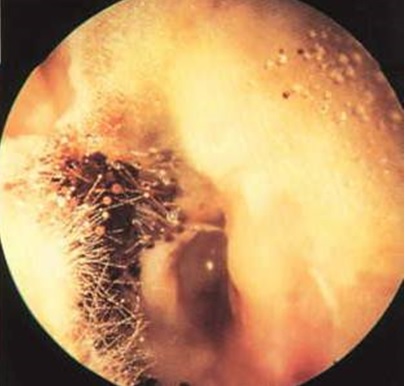 TREATMENT-
1. Antifungal ear drops like Clotriamazole.
2. Antihistamines
3. Keep ear dry
Otomycosis mostly occurs due to water entering the ear.
There is another infection that is not fungal but BACTERIAL in nature which is caused by the entry of water in the ear while Swimming and is known as SWIMMER's EAR or OTITIS EXTERNA.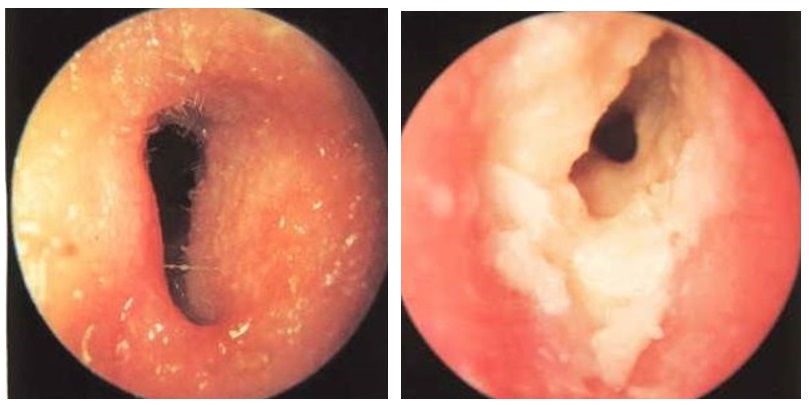 The most common presenting complaints of patients with Otitis externa are-
1. SEVERE EAR PAIN
2. EAR ITCHING
3. EAR FULLNESS
4. EAR SWELLING
TREATMENT-
1. Antibiotics
2. Antihistamines
3. Painkillers
4. Ear canal packing with either Icthamol glycerine or Quadriderm®, as found suitable by ENT surgeon after examining patient's ear.
5. GRANULAR OTITIS EXTERNA
The condition becomes chronic when this viral, bacterial, or fungal infection of the ears is neglected.
This chronic infection of the ear canal is known as Granular Otitis externa and is characterized by the presence of Granulations and Excoriations of ear canal skin, which causes intense itching in ears, with ear discharge which can be blood-stained.
TREATMENT-
1. Repeated cleaning and debridement of ear canal granulations.
2. Cauterization of granulations.
3. (Antibiotic + Antifungal + Steroid) Cream for ear canal packing.
6. CONTACT DERMATITIS
This means that ear canal skin is getting infected after coming in contact with some agent.
It can result from a variety of agents, such as Cosmetic products, hairsprays, shampoos, hair gels, jewellery, headphones, earphones, and hearing aids.
TREATMENT-
1. Eliminate the culprit agent.
2. Use cosmetic agents that are of good quality and suits your skin.
3. Wear jewellery only of metal/substance that suits your skin
4. Regular ear cleaning
5. Antihistamines
6. Steroid cream if advised by the ENT surgeon.
7. FOREIGN BODIES IN EAR
To relieve themselves from itching, most patients (adults and children) very commonly use match sticks, pencil tips, back of ball pen refill, car keys, etc. to scratch the ear.
Hence, the most common foreign bodies that are found in the ear canal of the patient that can be an independent cause of itchy ears are-
1. Broken end of match sticks
2. Cotton portion of earbuds
3. Broken tip of lead pencil, crayons
4. Dead mosquito, spider in the ear canal
5. Eraser piece
6. Paper pieces, etc.
TREATMENT-
– Visit a hospital and get the foreign body removed by an ENT surgeon.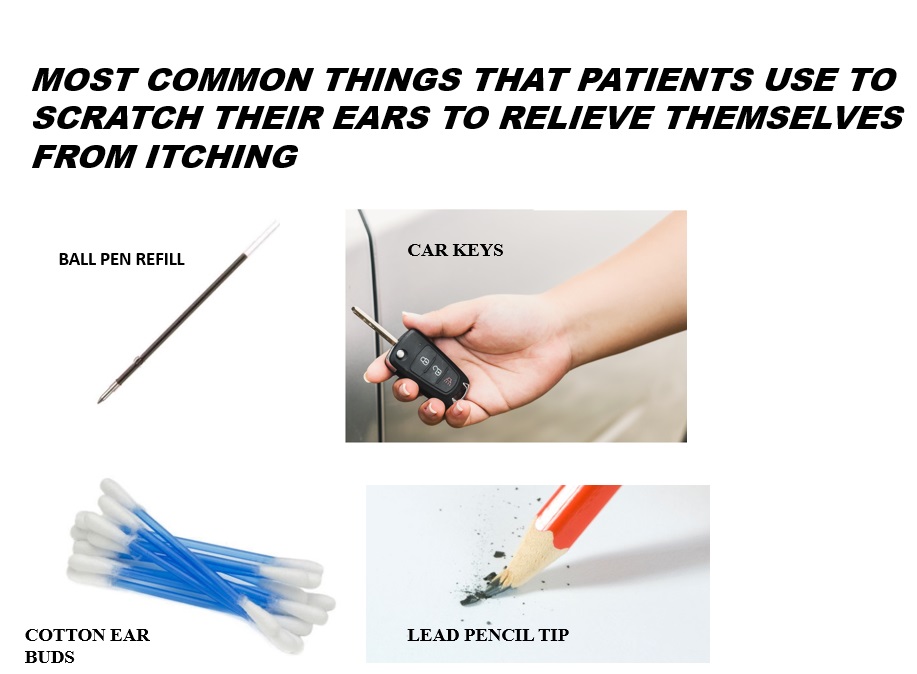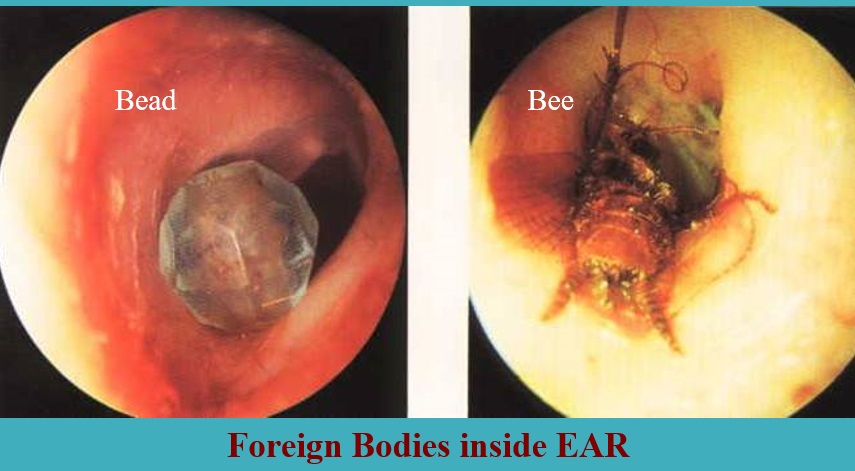 8. SKIN CONDITIONS and SKIN ALLERGIES
Skin conditions like PSORIASIS and ECZEMA can cause intensely itchy ears.
TREATMENT-
Consult a DERMATOLOGIST.
9. OTHER ALLERGIES
Any kind of allergy may give rise to itchy ears.
Allergy in the skin, food allergy, allergy in the nose can cause itching in the ears.
FOOD ALLERGY – An allergic reaction to certain food can cause people to have itchy ears.
Common foods that can trigger an allergic reaction include:
1. Peanuts
2. Milk
3. Fish
4. Cinnamon
5. Egg
6. People may also experience itchiness on the rest of the body with the development of hives.
ALLERGY IN NOSE aka Allergic Rhinitis are patients who suffer from complaints like runny nose, itching and redness of the nose, frequent sneezing, and nasal blockage when they are exposed to dust, dirt, smoke, pollens, animal hair or fur, etc.
These patients also have associated itching in the ears, eyes, and throat when get exposed to allergens.
TREATMENT-
1. AVOID ALLERGENS.
2. ANTIALLERGICS
3. STEROID NASAL SPRAYS.
WHEN TO VISIT AN ENT SURGEON-
If simple remedies are not working.
2. If itching is associated with ear pain, ear swelling.
3. If itching is associated with decreased hearing.
4. If itching is associated with ear discharge.
5. If the cause of itching is not clear.
What should you do if your ears itch?
1. NEVER stick anything inside your ear to scratch your ear.
2. Make sure that you strengthen up your will and decide that you will not scratch your ear with your finger or anything even if it's itching intensely.
3. The most sensible and wise thing to do is "Visit an ENT surgeon"
PRECAUTIONS-
1. Avoid water from entering your ear canal.
2. Use cosmetic products that suit your skin.
3. Wear jewellery of metal that suits your skin.
4. DO NOT use EAR BUDS. These cause more harm than good to the patient's ears.
5. NEVER buy any ear drops from a chemist shop WITHOUT consulting an ENT doctor.
THANK YOU
WATCH INTERESTING ENT-related VIDEOS ON MY YouTube CHANNEL…..Dr.Sharad ENT Videos
MEDICAL ADVICE DISCLAIMER:
This blog including information, content, references, and opinions is for informational purposes only.
The Author does not provide any medical advice on this platform.
Viewing, accessing, or reading this blog does not establish any doctor-patient relationship.
The information provided in this blog does not replace the services and opinions of a qualified medical professional who examines you and then prescribes medicines.
And if you have any questions of medical nature, please refer to your doctor or the qualified medical personnel for evaluation and management at a clinic/hospital near you.
The content provided in this blog represents the Author's own interpretation of research articles.