Prosper Meniere first described this disease in 1861.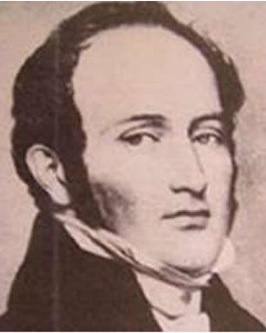 The human ear has three parts—
1) Outer ear,
2) Middle ear, and
3) Inner ear.
Meniere Disease is a disorder of the INNER EAR.
The inner ear is responsible for —
– HEARING, and
– BALANCE.
The condition causes VERTIGO, which means the sensation of instability or spinning.
It also leads to HEARING LOSS and TINNITUS, which is a ringing sound in the ear.
Meniere's disease usually affects only one ear.
Incidence of Meniere's disease
– Roughly 1 in 1000 individuals are affected.
– Meniere's disease constitutes 10% of all patients attending Vertigo clinic.
– Female preponderance is seen.
– It is rare in children under the age of 10 years.
– It commonly begins between the 3rd to 6th decade of life.
– Bilateral Meniere's syndrome is seen in 5% of these patients.
What causes Meniere's disease?
Theories behind Meniere's disease are –
1) Obstruction of endolymphatic duct/sac
2) Hypoplasia of endolymphatic duct/sac
3) Alteration of absorption of endolymph
4) Alteration in the production of endolymph
5) Autoimmune insult
6) Vascular origin
7) Viral etiology
Pathophysiology of Meniere's Disease-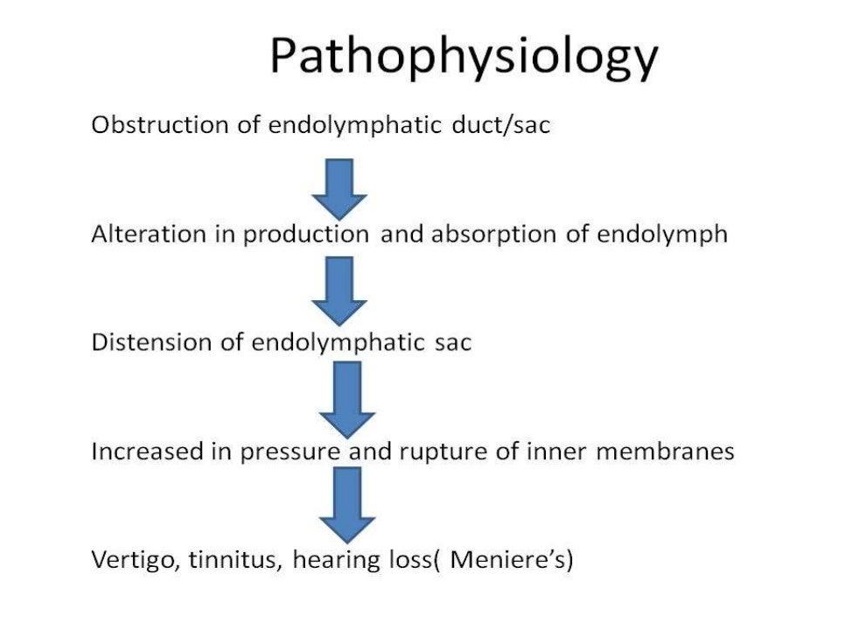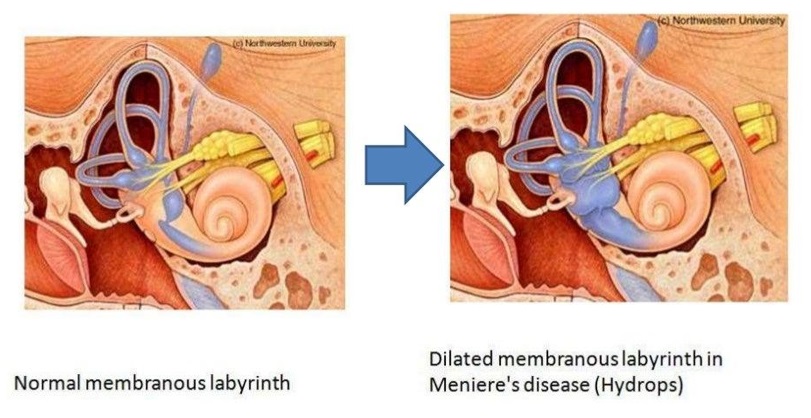 Due to the rupture of Reissner's membrane, there is leakage of potassium-rich Endolymph into the Perilymph, bathing the 8th cranial nerve and hair cells.
This results in a higher concentration of extracellular potassium, which depolarizes the nerve cells causing their acute inactivation.
The result of this is a decrease in the auditory and the vestibular neuronal outflow consistent with hearing loss and features of Acute Vestibular paralysis as seen in a typical Meniere's attack.
The chronic deterioration in inner ear function presumably is the effect of repeated exposure to the effects of potassium.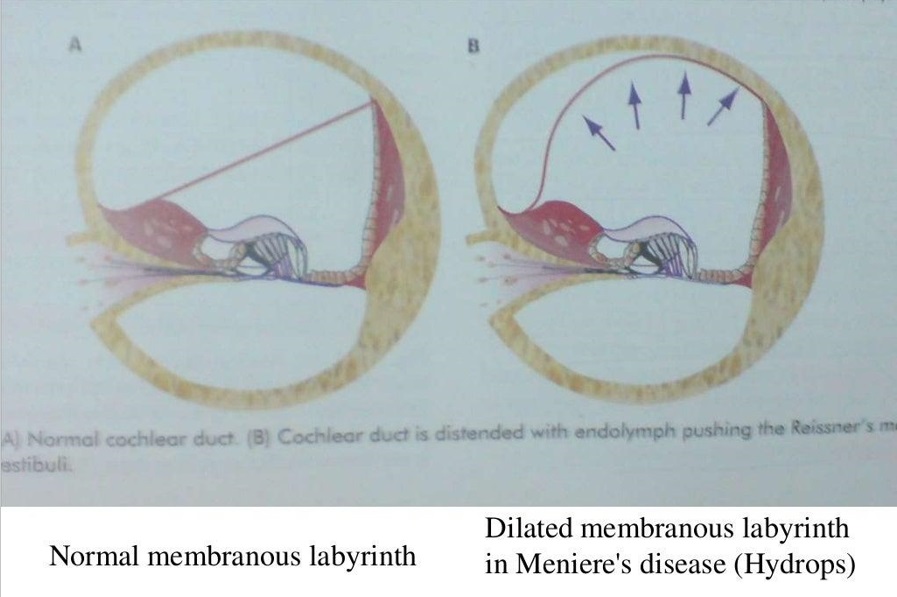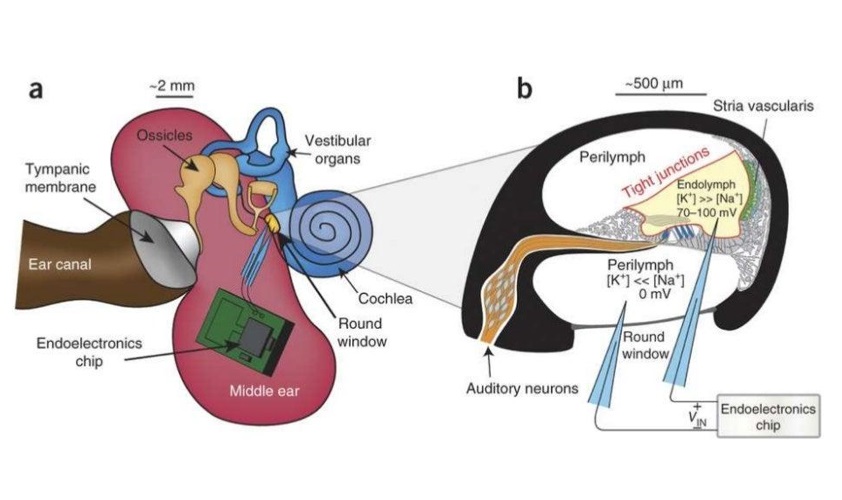 What are the SYMPTOMS of Meniere's disease?
Meniere's disease symptoms tend to come on as "episodes" or "attacks." These symptoms include:
VERTIGO, with attacks lasting anywhere from a few minutes to 24 hours
HEARING LOSS in the affected ear
TINNITUS, or a ringing sensation in the affected ear
Ear fullness, or the feeling that the ear is full or plugged or blocked
LOSS OF BALANCE
headaches
nausea, vomiting, and sweating caused by severe vertigo
Someone with Meniere's disease will experience at least two to three of the following symptoms at one time:
1) VERTIGO: attacks lasting anywhere from a few minutes to 24 hours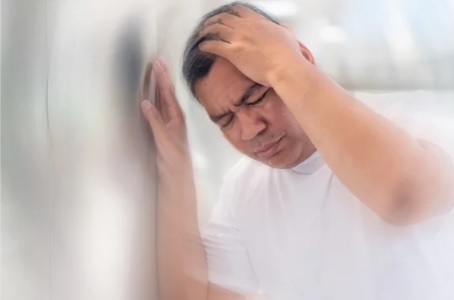 2) DEAFNESS :
a) Sensorineural deafness, which will be FLUCTUATING and PROGRESSIVE.
b) Affects LOW FREQUENCIES
c) Profound Sensorineural hearing loss can occur in the late stages of Meniere's disease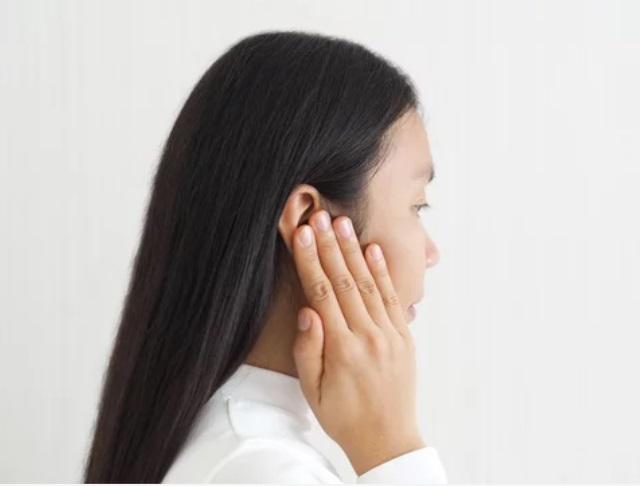 3) TINNITUS :
a) Tinnitus will be ROARING in nature.
b) Subjective Tinnitus
c) Could be Continuous or Intermittent in nature.
d) Non-pulsatile in nature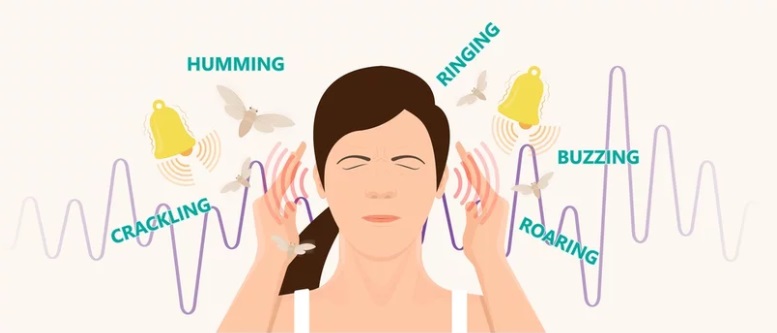 4) EAR FULLNESS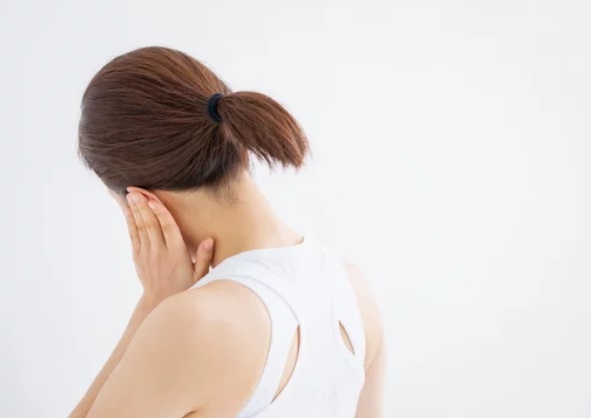 Most people with Meniere's disease don't experience symptoms between episodes.
Meniere's disease may also be confused with many other inner ear disorders, such as LABYRINTHITIS, VESTIBULAR NEURONITIS, etc.
How is Meniere's disease diagnosed?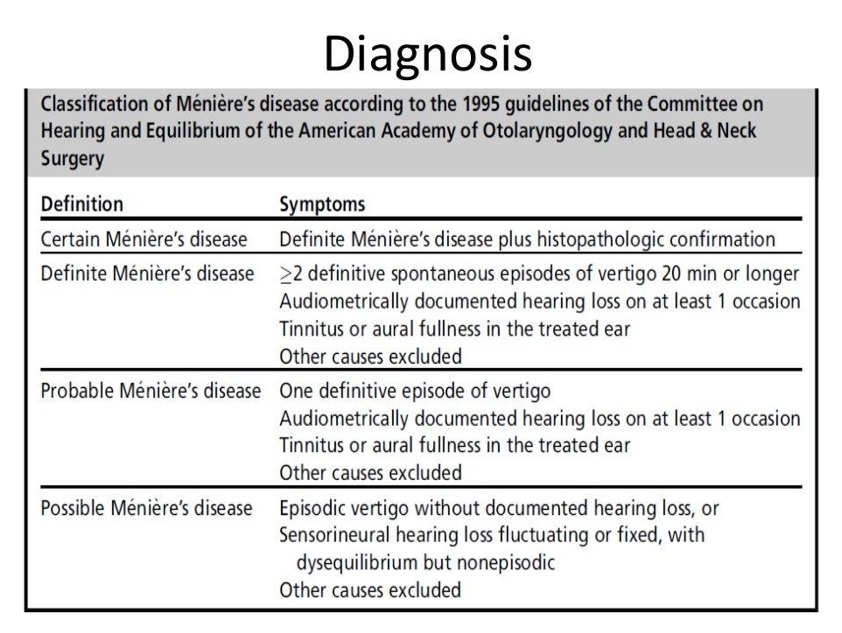 If a patient is experiencing symptoms of Meniere's disease, an ENT doctor will advise tests to examine the patient's balance and hearing and rule out other causes of his/her symptoms.
AUDIOMETRY TEST
1) PTA (Pure tone audiometry)
2) Speech Audiometry
3) Recruitment test positive
4) Short Increment Sensitivity Index ( SISI) > 70%
5) Tone decay < 20 dB (decibels)
6) Dehydration / Glycerol test
DEHYDRATION TEST FOR DIAGNOSING MENIERE'S DISEASE –
Agents used for dehydration tests can be –
1) GLYCEROL
– Glycerol is administered at 1.5 mg/kg body weight on an empty stomach.
PTA is done 2-3 hours after administration of glycerol
2) FUROSEMIDE
3) ISOSORBIDE
The test is considered POSITIVE if either –
(I) There is a 10 dB or more improvement in pure-tone thresholds at 2 or more frequencies (250 to 2000 Hz), or
(II) There is a 12 % or greater improvement in speech discrimination scores.
BALANCE TESTS
a) CALORIC TESTING – canal paresis
b) ENG (Electronystagmography)
c) Head Thrust test
d) ECoG (Electrocochleography) – Summating potential is larger and more negative
e) SP / AP ratio increases > 30%
[SP is Summating Potential and AP is Action Potential ]
f) VEMP test (Vestibular-evoked myogenic potential) elevated thresholds
What is the TREATMENT for Meniere's disease?
1) MEDICAL MANAGEMENT
i) Diet
ii) Physiotherapy
iii) Psychological support
iv) Medicines
The acute stage of Meniere's disease can be managed by giving —-
– LABYRINTHINE SEDATIVES,
– ANTI-EMETICS, with
– CARBOGEN (95% CO2 + 5% O2), and
– HISTAMINE drip.
What is FURSTENBERG REGIMEN?
Furstenberg's regimen states that patients with Meniere's disease should be given –
A) LOW SALT DIET
B) DIURETICS + POTASSIUM CHLORIDE supplement
C) HIGH PROTEIN DIET
D) STOP CAFFEINE, ALCOHOL, SMOKING, NICOTINE, and TOBACCO.
E) BETAHISTINE – to relieve vascular ischemia.
2) SURGICAL MANAGEMENT
Endolymphatic sac surgery
i) Decompression of sac – means Removal of bone overlying the sac
ii) Drainage of sac
– It is the placement of a synthetic shunt to drain endolymph into the mastoid cavity or subarachnoid space (k/a EXTERNAL SHUNTS).
– It is the placement of a synthetic shunt to drain endolymph into the Perilymphatic space (Cochleosacculotomy / Labyrinthotomy), aka INTERNAL SHUNTS.
Ablative surgical procedures like –
i) Labyrinthectomy
ii) Translabyrithine vestibular neurectomy
iii) Retrolabyrithine vestibular neurectomy
iv) Retrosigmoid vestibular neurectomy
v) Middle cranial fossa vestibular neurectomy
Lifestyle changes that may help improve the symptoms of Meniere's disease include:
Resting during acute attacks of vertigo
Eating regularly helps in the regulation of fluids in the body
Managing stress and anxiety through yoga, meditation, psychotherapy, or medication
THANK YOU
MEDICAL ADVICE DISCLAIMER:

This blog, including information, content, references, and opinions, is for informational purposes only.
The Author does not provide any medical advice on this platform.
Viewing, accessing, or reading this blog does not establish any doctor-patient relationship.
The information provided in this blog does not replace the services and opinions of a qualified medical professional who examines you and then prescribes medicines.
And if you have any questions of medical nature, please refer to your doctor or qualified medical personnel for evaluation and management at a clinic/hospital near you.
The content provided in this blog represents the Author's own interpretation of research articles.